DAYS of Caring is this week!
Amidst the COVID-19 pandemic, the needs of our communities are more urgent than ever before. Thankfully, there are ways to safely and meaningfully volunteer and support vital efforts happening around Lane County.
This year, United Way has reimagined our annual Day of Caring into DAYS of Caring, with projects spanning three days for individuals and small groups that can be done outdoors, virtually, or in well-spaced locations to ensure the safety of everyone involved.
This year, nonprofits across Springfield, Eugene, Cottage Grove, and Junction City have adapted their volunteer needs and have hundreds of volunteer spots available to support their work throughout these three days.
Due to the hazardous air quality that we have been experiencing (and expected to flow in/out until the fires are contained), we are watching the Air Quality Index closely. On Tuesday 9/22, if the forecast for the AQI is:
Good/Green (1-50) – DOC will continue as planned – even if raining;
Moderate/Yellow (51-100) – volunteers will need to determine, based on their own health, if they are still comfortable volunteering and let us know ASAP; or

Unhealthy/Orange (101+) – all indoor and outdoor projects will be canceled/postponed.
All remote/DIY and virtual projects will go on according to plan regardless of AQI. We will send out an email on Tuesday to all volunteer and team captains to let you know if projects have been canceled or not, and share final details.
Overview of this year's volunteer opportunities:
85% are outdoor projects

, for groups of 20 or less

6% are indoor

projects, for groups of 10 or less

8% are virtual or remote

Virtual projects

can be done at home, or onsite with your own computer/phone, e.g.

online chats or calls with homebound seniors, newsletter designing, research projects, hosting virtual focus groups, etc.

Remote projects

allow for volunteers to collect supplies from an agency (or help provide resources to obtain supplies), package together or complete, and deliver back to the agency, e.g. assembling kits, writing thank you notes, etc.
All volunteers and agency staff must wear masks for both indoor and outdoor projects, and additional precautions will be taken throughout projects. We are continuing to monitor health and safety recommendations from the CDC, OSHA, OHA, and Lane County Public Health.
Important DAYS of Caring Dates
August 26-September 16: Volunteer Registration
September 9: Deadline to order DAYS of Caring T-shirt (see below)
September 24-26: DAYS of Caring!

Fill out the required online volunteer release form here. Mandatory for all volunteers volunteering for DAYS of Caring.
DAYS of Caring volunteer registration is closed. If you are interested in volunteering please contact Alexis Amavisca at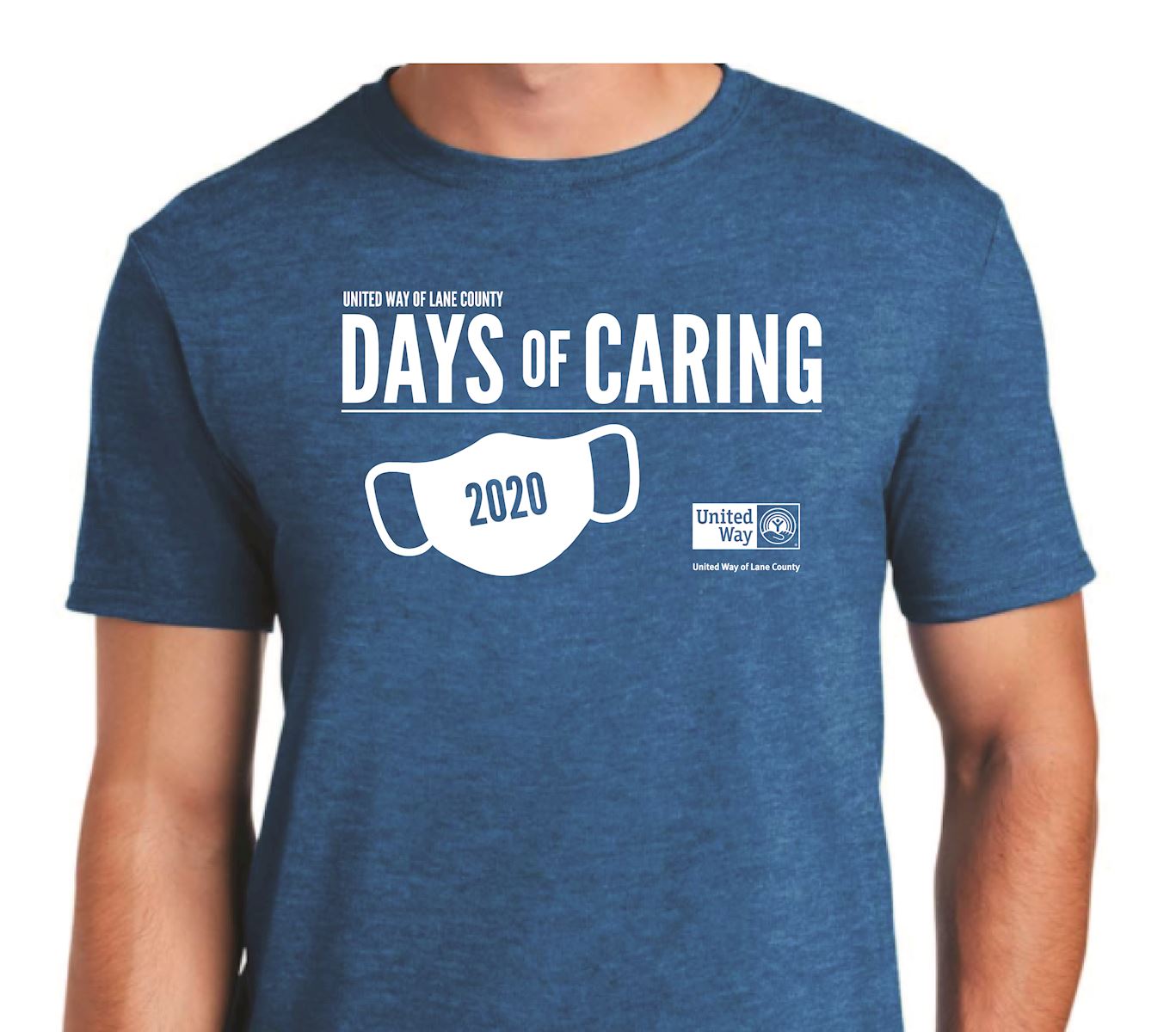 dayofcaring@unitedwaylane.org as we still have some projects that need volunteers.
Want to purchase a 2020 DAYS of Caring t-shirts? Shirts are no longer available to order. Orders will be processed and filled by McKenzie SewOn. Volunteers are responsible for picking up t-shirts from McKenzie SewOn. McKenzie SewOn will let you know when shirts are ready to be picked up.
Have additional questions? Contact Alexis Amavisca at dayofcaring@unitedwaylane.org.
---
Thank you to the 826 volunteers who showed up, gave back, and got your hands dirty during Day of Caring in 2019!
Look at the positive impact made throughout our community in one day.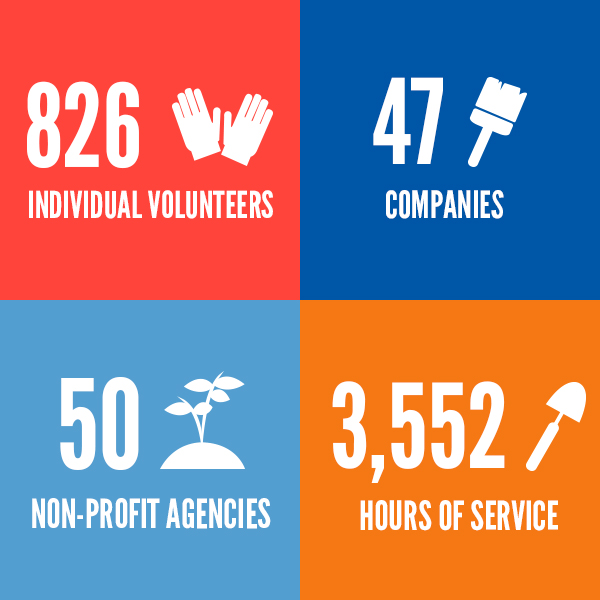 Congrats to Pearl Buck Center and Hershner Hunter for being our 2019 Photo Contest winners!
Our annual sponsors voted for their favorite photo, and this one of Hershner Hunter volunteers bikin' around Pearl Buck Center took the cake! Thank you to everyone who posted photos using the #LaneCountyCares-we loved following along and sharing out what you were up to! We'll be awarding our winners a donut party for their winning photo.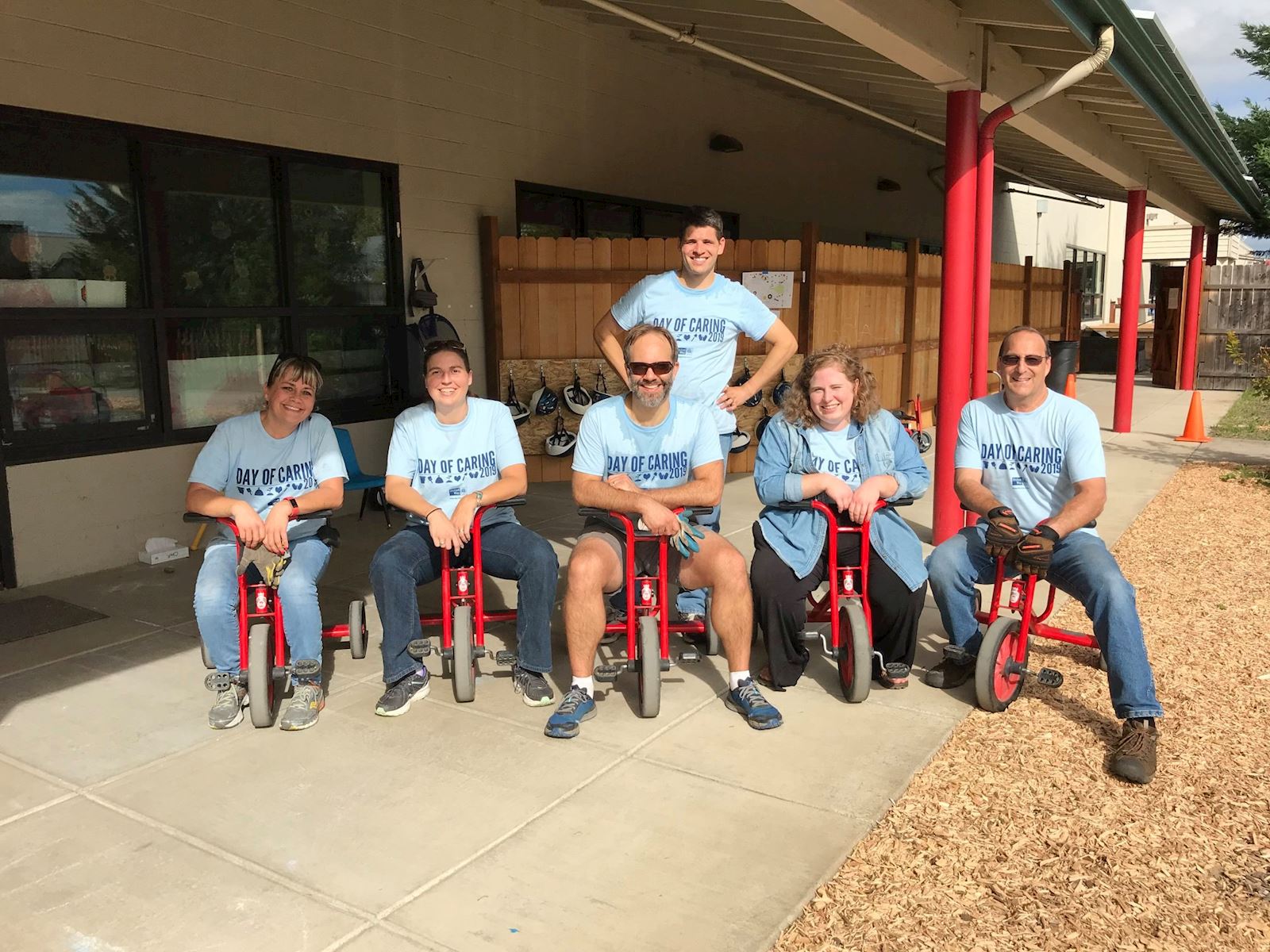 We've compiled many of the other photos into a Facebook album. Enjoy!
Click here to see photos from Day of Caring in 2018. Thank you to the over 950 volunteers who participated!

Have questions? Contact Alexis Amavisca at dayofcaring@unitedwaylane.org or 541-741-6000 x147.